Fruit Bowl Franchises Are Trending
Healthy eating is a trend that is here to stay with up and coming fruit bowl franchise industry. Busy consumers are looking to restaurants like their favorite fruit bowl franchise to provide healthy options that are nutritious and tasty! According to research done by the National Restaurant Association, more than seven in ten adults are trying to eat healthier when they dine out then they were two years ago. The importance of offering healthy meal options will only continue to grow.
Just having healthy meal options on the menu makes diners more likely to dine at a restaurant, even if they don't order them. According to the National Restaurant Association 70% of consumers said that the selection of healthy meal options on the menu influenced where they would dine out. Consumers want healthy options when eating out, and they will even changing their dining habits to find restaurants that offer them.
Consumers are looking for ways to make eating healthy fit in their busy lives, which means that speed and convince will continue to dictate eating trends for 2018 and beyond. The popularity of restaurants that offer fast, healthy, and tasty options will only continue to rise. Trending with the times will be the easy on the go fruit bowl, packed with tasty fresh ingredients fruit bowls tick off all the boxes on a health conscious consumers list.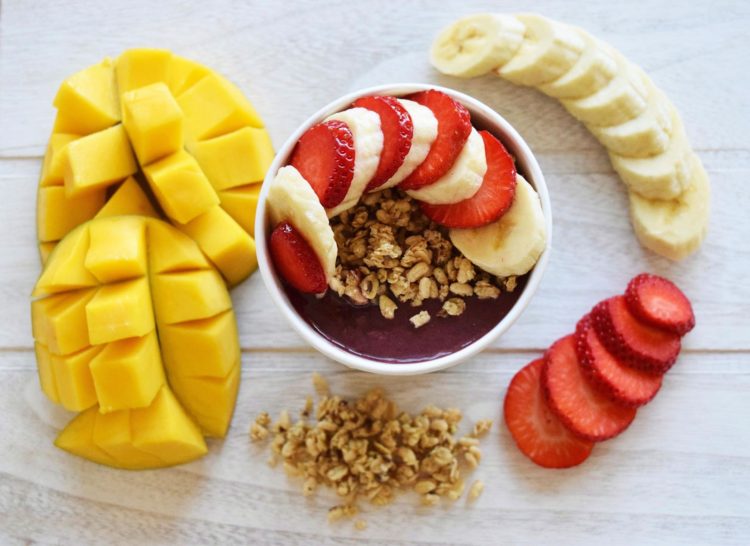 Gallup research has found 76 percent of adults eat at a fast food restaurant at least monthly, and 57 percent of young adults report eating it at least weekly.
Over 80 percent of restaurants now offer a low-fat or "healthy" menu, according to Fast Casual's 2017 State of the Industry Report.
88 percent of consumers say they're willing to pay a premium for foods with healthy attributes, according to Nielsen's online poll of 30,000 people in 60 countries.
The National Restaurant Association reports 76 percent of adults will return to a restaurant that offers healthier options.
58% of diners care less about price and deals and more about the quality and freshness of their meal according to NPD Group.
84% of restaurant operators say their customers are paying more attention to nutrition when they order.
Fast casual and fast food dining collide as consumers demand options that fit their needs for quick healthy food on the go. One of the fastest growing trends in fast casual dining is the bowl. The bowl began its rise in 2015 and has only continued to grow in popularity. The bowl may have started with the instafamous fruit bowl for breakfast, but with it's quick, convenient, and picture ready packaging the bowl now claims a spot at the lunch and dinner table too.
With an ever growing demand for fast nutritious meals, the bowl fits the bill perfectly! Rush bowls are packed with antioxidant rich ingredients like acai and blueberries. They addition of nutritional powerhouses like chia seeds and green tea keep customers coming back for more. Many smoothie bowl options even include energy sustaining protein from whey, soy, or nuts.
FRUIT & VEGGIE LOADED
Our bowls are all one of a kind, packed with fruits, veggies and unique combinations of delicious ingredients in order to highlight the essential superfoods.
NUTRITIOUS & LOW CALORIE
Far healthier than the traditional fast casual meal that usually comes with french fries, Rush Bowls can include optional protein AND are low in calories and fat content.
PRODUCT VARIETY
Our customers love acai bowls, but they also love variety. Out of our 13+ different bowl options available on our menu, 3 are acai. We also offer 11+ smoothie options.
Great Taste & Plant Power
It is more important than ever to provide healthy options on the menu, but it is just as important to provide healthy food that tastes amazing! In a recent study performed by Technomic, a chicago based research company, three-fifths of consumers believe that their favorite restaurants can offer food that is both healthy and delicious. Consumers know what they want and they aren't willing to great sacrifice flavors to get it!
Consumers want healthy options, but the nutritional focus at the forefront of each diners mind can vary widely, from high protein, to plant strong, to gluten free, sugar free, additive free, the list goes on and on. But there is one nutritional focus that consumers seem to agree on and that is the importance of plants. When surveyed by Technomic consumers overwhelmingly believed that a meal that with a full serving of fruits or vegetables was good for them. This is one area where the fruit bowl really shines. Rush bowls pack in the produce and easily meet consumer desire to consume more produce. No matter the dietary doctrine consumers are happy to add more plants to their plate!
We've worked hard to create an innovative and welcoming space for people who seek to thrive… from their life experiences to their social circles to what they put in their bodies.
Simple & Scalable
Our fruit bowl franchise owners don't have expensive build-outs, high overhead or have to deal with the complexities of a typical restaurant business model. For the last decade we have been focused on perfecting a highly efficient business model. Our acai business enjoys the revenues and stability of the typical food franchise model, but without the headaches.
Our lower initial investment, simple operation and strong unit economics also allows our Franchise Owners the ability to more easily open more locations. In fact, we have already sold out territory in Denver and Nashville. We are looking for like-minded entrepreneurs who want to capitalize on this industry and help us becoming the dominant national brand in this space.