The Fast Casual Industry
Fast-casual dining sits in the middle ground between a full-service restaurant and fast food. Similar to fast food, customers order at a counter and seat themselves or order for dining out. Unlike fast food, the environment of a fast casual dining establishment usually involves real cutlery and dishes, as well as food prepared on site
The general perception of fast-casual dining also reflects an expectation of higher-quality food and healthier options, as well as a wider variety of food options across the market, including more diverse cultural dining experiences and more options for dietary restrictions. Although this does generally mean a higher price point for diners compared to fast food, the incredible growth of fast-causual restaurants shows the cost has not deterred customers.
This industry has proven to be especially popular across a range of ages, with especial interest among those between the ages of 35-45 on their lunch hours, looking for speed without sacrificing quality or health. Younger diners are also drawn to fast casual dining, especially as they seek greater cultural diversity in their food. In particular, consumers in their teens and twenties seek after food that is customizable, health-consciou,s and aesthetically pleasing.
Acai is particularly popular among this demographic because of its health benefits and it's gorgeous, a distinct magenta color that makes it perfect for showcasing on social media. In fact, #acaibowl has more than 1.8 million posts on Instagram, and more than 235 million views on TikTok, making it one of the most lucrative and recognizable health foods on the market. By working within the acai market as well as the fast casual dining industry, Rush Bowls has set itself apart from other restaurant franchise opportunities.
The Current State Of The Fast-Casual Restaurant Industry - Restaurant Franchise Opportunities
The fast casual restaurant industry has grown more than 500% in the last 20 years and shows no signs of slowing down. Notably, there has been increased attention on healthier food and flexible, on-the-go dining options in recent years. Now, around 30% of restaurants in the United states are fast-casual franchises.
With the US Department of Commerce reporting that less than 10% of these restaurant franchise opportunities fail annually, the industry has proven resistant to recession even during the financial crisis of 2007-2008 and the strain of the global pandemic in 2020. We expect that the fast casual dining industry will only continue to expand in years to come.
Given the increased demand from consumers for fast dining options that are also healthy, Rush Bowls is a particularly strong investment option for those looking to get involved in the fast casual industry, even for first time Franchise Owners. Rush Bowls has a lower investment cost than many competitors. While many fast-casual franchise restaurant opportunities require an initial investment of $500,000 to $1 million*, we average around $194,000. This is due in part to the flexibility of our storefronts, with Owners around the country operating in many different floor plans and in a variety of square footage.
Additionally, we do not require use of an exclusive supply chain for the products you use, allowing you to source your all-natural ingredients locally if you prefer.
What Are The Benefits Of Franchising With Rush Bowls?
Unlike other franchising options, Rush Bowls harnesses the three distinctly profitable industries into one efficient business model. We are part of the $1 Trillion health food industry, the $500 million acai berry industry, and the $384 million health-focused fast-casual dining industry. Our delicious bowls are highly customizable for customers and simple to produce for you.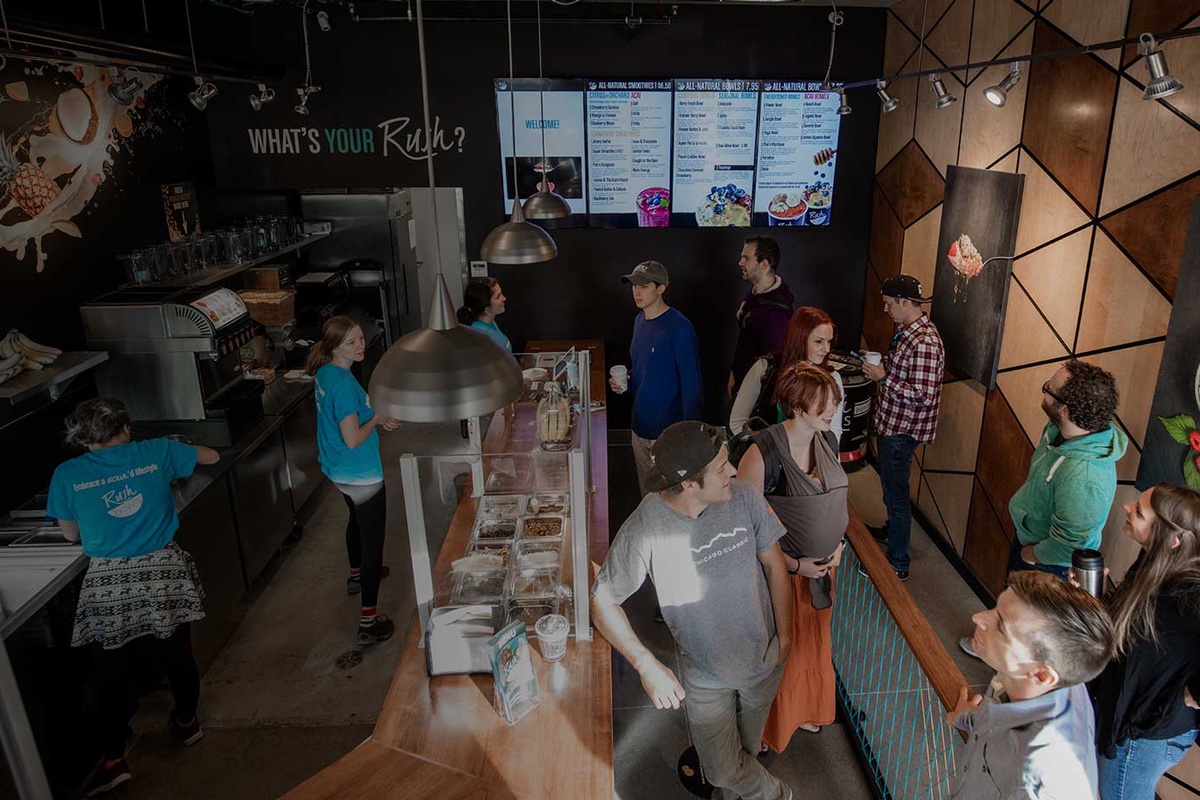 Our model doesn't require you to have the large footprint of traditional dine-in restaurants and the large staffing needs that come as a result. The result is a highly Instagrammable, delicious product for our customers and a low initial investment for you.
Our experienced team of franchise support professionals are ready to support you in reaching your franchise goals. With increasing market demand (the acai bowl industry is expected to grow at a rate of 12.5% through at least 2025), we are actively seeking entrepreneurs looking to help us expand. If you have a passion for delicious food, top-notch customer service, and a fun, low-maintenance work environment, then Rush Bowls might be the perfect fit for you!
Contact us now for more information on how to get started!