Are you looking to open a smoothie franchise ? Two popular options are a Smoothie King franchise and a Playa Bowls franchise. If you're considering a healthy food franchise with one of these companies, here are some important questions to consider:
What are the cost and requirements of a Smoothie King Franchise?
Franchising since 1988 and with over 950 worldwide locations, Smoothie King is one of the largest smoothie franchises in the industry. If you're considering opening a Smoothie King franchise, you're looking at a sizeable investment. The initial opening costs can run anywhere from $263,550 to $844,485 (depending on location size) plus a $30,000 franchise fee. That's not all, however. Owners are also expected to shell out a 6% weekly royalty, a 3% weekly advertising fee, plus a $200 monthly technology fee!
…of a Playa Bowls Franchise?
Unfortunately, Playa Bowls refuses to provide any information about their franchise requirements. That probably means the investment cost is more than you want to pay. You'll have to divulge lots of personal information to even get an answer to an inquiry about the Playa Bowls franchise. Any company that refuses to be transparent isn't making a great first impression.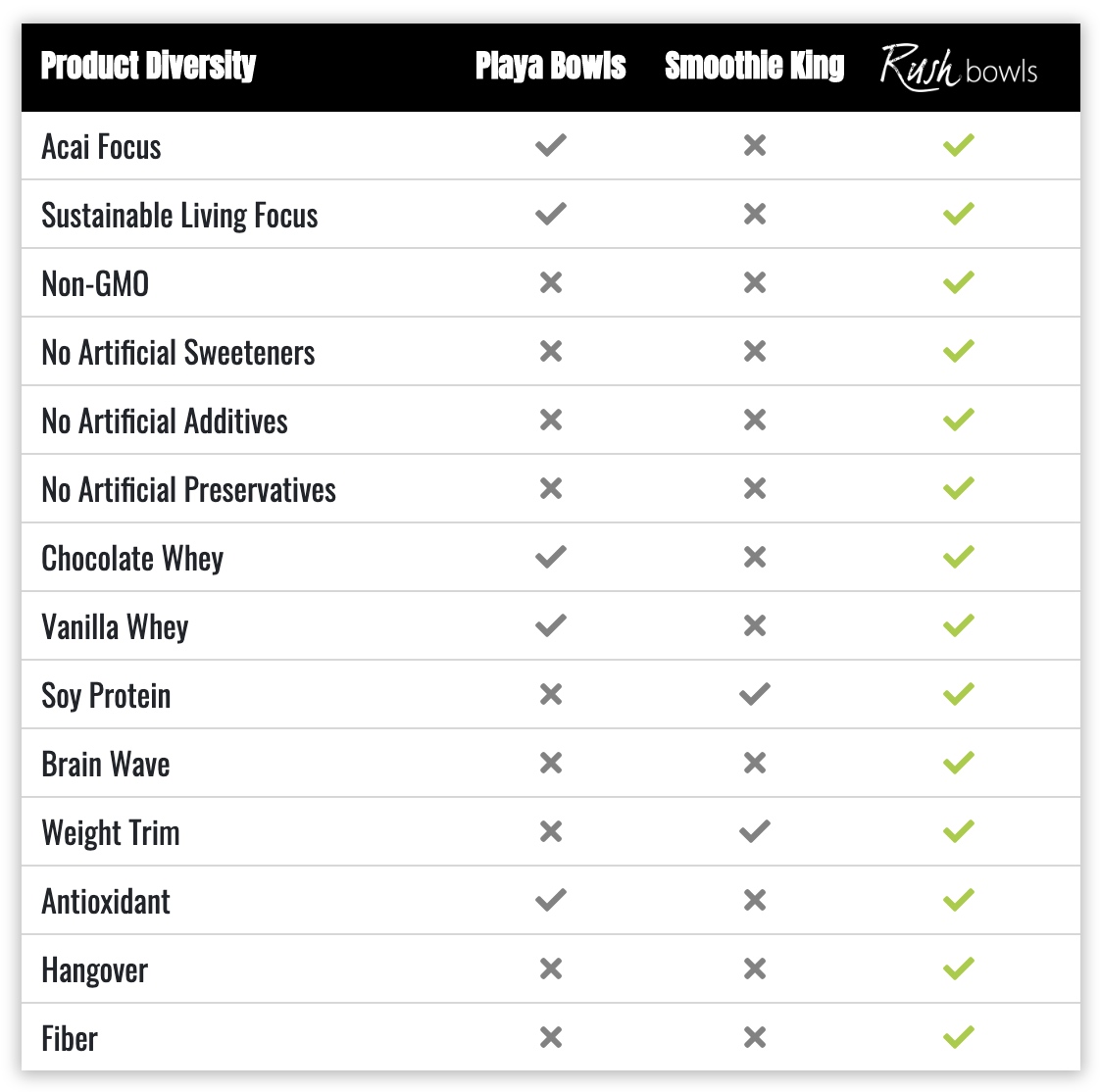 How well does the Smoothie King Franchise fit the "healthy food franchise" model?
The answer may surprise you! Numerous articles address the fact that the Smoothie King franchise is far (very far) from healthy. They have a menu that contains items full of ice cream, added sugars, and mystery "juice blends"- three things that you normally don't associate with the phrase "healthy food franchise." Smoothie King franchise is like the fast food equivalent of the health food industry. Any customers that are looking for a true healthy food franchise experience may have some issues with Smoothie King's menu.
…and Playa Bowls Franchise?
Playa Bowls does better than Smoothie King, but there is no way to be sure about the quality of their ingredients. Due to a lack of transparency with the Playa Bowls franchise, it's nearly impossible to know about the quality of their ingredients. In fact, the only available information about the Playa Bowls franchise menu ingredients is, "nutritional info coming soon!" This can be something of a red flag for someone looking to invest in a true healthy food franchise opportunity."
Looking for a smoothie franchise with a focus on real, quality healthy menu items? It's time to look into the Rush Bowls opportunity.
At Rush Bowls, a healthy lifestyle is our first priority and sales our second. Fortunately, we excel at both. Our menu features smoothies and the ever-popular acai bowl. You won't find any mysterious "juice blends" in our ingredients. We also stay away from added sugars, artificial ingredients, or preservatives. Just deliciously fresh fruit blended to perfection! Our healthy food franchise menu has options for a wide variety of dietary restrictions.
$222,500 or more Investment
By sticking to our healthy food franchise values, we quickly grew a loyal following. Consumers are demanding healthier options and menu transparency now more than ever. We've met their demands with relative ease (honestly, using fresh ingredients is actually easier and more cost effective than a secret gloop of sugar and preservatives). You can join our healthy and successful smoothie franchise for an investment of just $222,500 or more. Reach out to us today to get started!